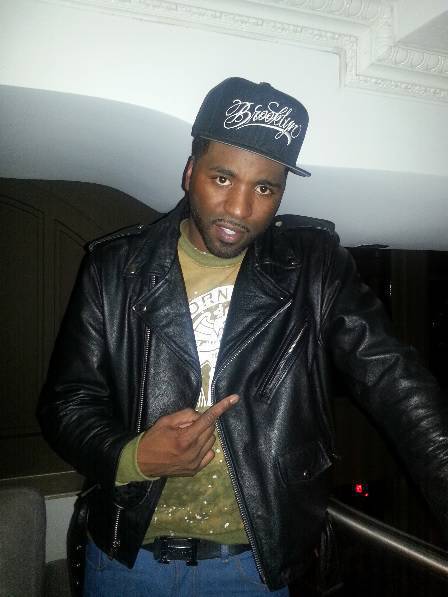 BK Brasco
gave
The Hype Magazine
some time from his busy schedule and granted them a great interview. Signed to the legendary Timbaland, this young man is setting a new mark in music as a songwriter, producer and artist...let's meet him shall we?! Hailed as one of the most promising rappers to come out of New York in most recent memory,
BK Brasco
is poised to leave his undeniable mark on the music scene. The Brownsville,
Brooklyn
native exploded to the forefront of the rap scene with his former rap group Brooklyn.
Discovered by the late
Shakir Stewart
, the group was signed to
Arista Records
. Although the group disbanded,
Stewart
saw something special in
Brasco
, and helped him hone his skills a MC and songwriter. He'd be given the opportunity to work with producers and songwriters such as
Scott Storch
,
Polow Da Don
and
Sean Garrett
. The music he created while in development would be used to make demo that would change his life. As he and his manager began to circulate the demo around the music industry, his sound and style would grab the attention of a growing fan base of industry execs and gatekeepers.

*thehypemagazine.com
His work would go on to peak the interest of rapper/business man
Jay-Z
and
Interscope Records
Chairman
Jimmy Iovine
, and a bidding war would ensue. Without a mixtape or an album,
Iovine
gave
BK Brasco
a label deal with
Interscope Records
. While his stay at
Interscope Records
was short lived due to creative differences, he and his work were introduced to super-producer
Timbaland
. Following his departure from
Interscope
, the two would be reunited, this time with
BK Brasco
signing to the megastar as an artist, songwriter and producer.
Together
Timbaland
and
BK Brasco
have collaborated on several hit records. Their biggest hit to date, "
Amnesia
," reached
platinum status
in
23 different countries
. A songwriter at heart,
BK
Brasco
is called upon regularly to write for other artist. He recently penned "
LSD
" for
Mario
, and "
Power
" for international pop sensation
Agnez Mo
. As a solo artist
BK Brasco
has created hits that have been widely received. He recently worked with Compound Entertainment artist
RaVaughn
on "
Every Bag
," and with the talented
Stacy Barthe
to create "
After All
." For his forthcoming EP "
18th Floor: Thompson Hotel Edition
,"
BK Brasco
gives listeners a glimpse of what they can expect from him as an MC.
With a melodic flow and diverse sound,
BK Brasco
has something for everyone who loves good music. The project will be released on
February 26, 2014
and features collaborations with
Wurld
,
RaVaugh
,
Stacy Barthe
,
Timbaland
,
Pusha T
,
Busta Rhymes
and more. (Bio from Publicity Pieces PR)
As you see yourself, who is BK Brasco?
BK Brasco is a dope emcees and an all around fly guy. He is enjoying life, and making the type of music that he loves (and hopes others will too).
Tell us about your new project "18th Floor Thompson Hotel," which drops Feb 26, 2014? You've had success even from your early stages in music, landing a deal with Interscope and enjoying a bidding war between Jimmy Iovine and Jay-Z. What's different now for you than at point in your professional career?
18th Floor Thompson Hotel Edition is a great project, and is a great representation of who I am as an artist. The project is very woman influenced, but still has the gritty street tracks that shows my skills as an emcee. I know this is cliche, but there really is something on it for everyone. What's different now is that I'm older wiser. I know how to win & I trust myself. I have a huge respect for the game & people that help me day to day.
Working with the caliber of producers that have graced your career, who was the most fun to work with?
I will have to say Timbaland. I've seen the world working with Tim he's like a big brother to me. He has taught me about life, making music, and what it takes to succeed in the music industry across genres.
Now for the artists you have collaborated with, was there anyone who made something click and brought you to another dimension in your flow or sonic presentation?
Collaborating with Pusha T. was an experience that required me to step my game up. We collaborated for "Big Spenda," and it was important to me that my verse was tough and matched his energy. I also had the privilege of watching Jay-Z work with Timbaland on Magna Carta Holy Grail, and just witnessing that was career changing. I'm a sponge, constantly learning and evolving. I'm blessed to be surrounded by greatness, and I'm soaking up as much knowledge as possible. I don't want to just win, I want to win BIG!
Signing to Timbaland was a major move and a sign that you have that "it" quality on many levels. What for you is the best part of making music?
Yeah Tim is one of the greatest so working with him is a blessing first. The best part of making music is creating that vibe between the beat and the lyrics. When I hear a beat, I retreat into myself and ask, what would B.I.G., or Jay, or Mase say. I listen for what the beat is saying to me, what do I feel when I hear the production. From there the words and concept seem to appear in my mind. I love music, and am a songwriter first. I love collaborating with great producers and bringing their beats to life. I find inspiration in life. On any given day I'm inspired to write a song. Something as simple as a word somebody gave me, pictures of a girl, me just loving the beat or me wanting to speak to ladies, or some fly dope boy sh*t my a friend speaks about can turn into a song.
I got this question from Bad Boy producer Miltickit, he wants to know what's your 27/9 grind like?
My 27/9 grind requires that I create daily. I'm a studio rat. I don't do clubs, but I'm with anything that's gonna push me forward. I love that ish!!!! I wake up and am listening to what I created yesterday, to see how I can make it better. From that I'm in the studio tweaking music, and preparing to write something new. This is my job, so if you're looking for me on any given day, I'm in the studio. I'm blessed to be surrounded by overachievers so what I do is the norm. I love what I do so much, that it's not really grind to me..I'm having fun.
Our fan question is, as an artist, do you find yourself listening to music differently? In other words, are you still able to listen to music for the pure enjoyment without the intrusion of picking apart a song or analyzing it?
Yes and no. When I initially hear music, I can enjoy it like a fan. Get into whether I think the flow and production are hot to me. About the 2nd or 3rd time I hear it I'm breaking the record down. What I like and dislike, what I would've done differently, and how I would improve it. It is the artist in me, music is a constant thought.
What do you want people get from your music? I want people to get I'm cool fly dude that loves make records to make girls go crazy and fly guys can relate to. My publicist says I make "car music." She is from the south, and says the best music is the type you can listen to riding in your car. What can listeners expect from your new EP "18th Floor Thompson Hotel?"
Listeners can expect hits from "18th Floor Thompson Hotel Edition." They can expect to have a good time, and hear something that will stick. They can expect great production, great bars, and exceptional collaborations with Timbaland, Pusha T, Mario, RaVaughn, Stacy Barthe and Wurld. They can expect to learn a lot about me.
What has been your greatest achievement musically so far?
My greatest achievement is recognizing my gift of putting words together to paint a picture. That gift took me on a 23 country tour, and made provisions for me to leave the hood. It allowed me to perform all over the world with Timbaland, rocking stadiums with thousands of people in attendance, and to hone my skills under the guidance of greats like Timbaland and Sean Garrett. I've done a lot and still have more to do.
If you could collaborate with one artist, living or dead, who would it be and why?
My dream collaboration would be with BIGGIE SMALLS... BROOKLYN!!!!!!! He was one of reason I wanted to get into music. His "One More Chance" video, his swag, his word play, his charm on the ladies are all things I admired. The entire Bad Boy Golden Era influenced my current style.
Name one track of yours that you think defines you and why?
Picking one song is impossible. The entire project contains equally important pieces of me. Each song reflects a different side of me. I think most artist are too complicated to be summed up in a single song.
Outside of music, what do you do to just go and decompress?
Outside of music I decompress like most. I like hanging with friends, or shopping for something fly at Vinnies, spending time with beautiful women, or on my PS4. At the moment, free time isn't on the schedule so my days are spent in the studio, on planes, in meetings with my business manger Mike Daddy, or on the phone with my other manager Amber as she tries to convince me to kiss & tell on IG LOL
How can our readers and your fans keep up with you?
You can keep up with me on my website http://BKBrasco.com, and by following my Twitter or Instagram @BKBrasco
Do you handle your social media personally?
Yes that me on social media & I answer back. I'm very active on Twitter, I even retweet when people post some dope shit about me, my crew or shit I fuck with.
Last but not least, HYPE wants to know...What's your CRAZIEST "Where they do that at?!" moment...
My craziest where they do that at moment happened just last week in Atlanta. I was with my boy Nikko from Love & Hip Hop Atlanta, and we were talking to these girls at the bar in a restaurant. The place was packed, but they were there with a larger group who was preparing to leave. After the group paid their tab and left, one of the girls sat down and began to eat leftover fries. I was like WTF! So shout out to that girl, she is disgusting LOL.