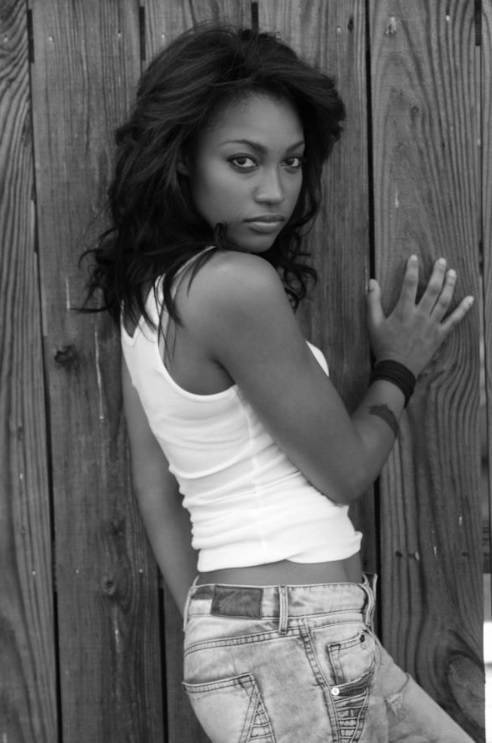 Last
April
, Bermudian singer-songwriter
Canjelae Taylor
found herself inside
Roc Nation Studios
, owned by
Jay-Z
, staring at Grammy-award winning record producer, composer and rapper,
Timbaland
, from inside a recording booth.
"I was waiting in the studio, and he said: 'Alright, Miss Bermuda, what you got?'"
she told
The Royal Gazette
after returning to
Bermuda
last month to begin work on her next album.
The producer — who has worked on albums with
Ginuwine
,
Aaliyah
,
Ludacris
,
Madonna
and other superstar musicians — was working on
Jay-Z's 2013
album '
Magna Carta... Holy Grail',
and asked
Canjelae
to wait a minute while he finished up. But as he busied himself with the self-proclaimed King of Hip Hop, Canjelae began humming, smooth and melodic.
"Then he was like: 'You want to go in the booth real quick?' He told me to sing what I was humming on the microphone and the next thing I know my voice is on a song with Timbaland and Jay-Z." "It was amazing. I'm low-key obsessed with Indian culture, I love their music. I just love the music, so it was kind of an Indian chant that I did on the record." After that, Timbaland gave his full undivided attention to the Bermudian songstress. "He just started a beat right there, like, for me. It was amazing. It was this 80s vibe guitar loop, he added drums, and he asked if I had something and I said 'Uh, no, I don't have anything in my head.' But then I started thinking: 'Oh man, you can't say no to Timbaland.' I'm walking to the mic thinking 'Screw this, what am I going to do?'
"I get to the mic and I just start freestyling, and I freestyled this thing that was actually pretty cool and Timbaland was getting all excited behind the glass saying he loves it. Then I asked: 'Should I stop?' And he just said: 'Man, you just wrote the chorus. That's awesome.'
Although the song has yet to be released,
Canjelae
and
Timbaland
left the session hoping to work together in the future. Two years on since
The Royal Gazette
last spoke with her,
Canjelae
says the experience with
Timbaland
and recent developments, which she said cannot speak of without giving too much away, has left her more ready for the spotlight than ever before.
"I can say that now, more than ever, I know who I am. My music is more honest than it's ever been."
Canjelae Taylor - Healing (2012)
*royalgazette.com
*facebook.com/canjelae.taylor