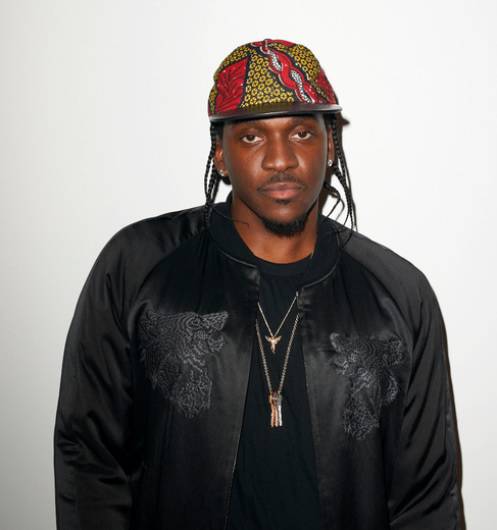 Pusha T.
sat down with
Hiphopdx.com
, where he reveals why he values touring over record sales, why he's taking so long to record with Timbaland and why he doesn't gauge his success by commercial sales. It's entirely possible
2014
is the year of the follow-up. There's more than a few solo efforts that premiered last year to critical acclaim that are getting the sophomore treatment, and thus, are subject to the sophomore jinx.
Of course there's
Kendrick Lamar's good kid, m.A.A.d. city, A$AP Rocky's Long.Live.A$AP,
and
French Montana's Excuse My French
, but all of those guys are relative new jacks compared to "
King Push
." Appropriately,
King Push
is both a moniker for the beloved
VA
rapper and the name of the hotly anticipated follow-up to
2013's My Name Is My Name
, and as usual, the stakes have been ratcheted up a full league higher for the second solo effort than they were for the first.
DX: Speaking of Nottz, "Nosetalgia" with Kendrick Lamar was one of My Name Is My Name's best records. How did that record with Nottz come about?
Pusha T: Um, man, I just really try to reach out to the legends of VA. And he's a legend to me. You know, I have worked with Neptunes out of Virginia. And when we came in it was exclusively working with my team. But, I tell people all the time, The Neptunes lived three minutes to the left of me, and Timbaland lived three minutes to the right of me. As a child, I knew Tim first and things like that. So there are so many people who I wanted to work with that I never got a chance to really work with due to the fact that I was exclusively with The Neptunes at the time. So, as I've been working on my solo mission, I've been reaching out to guys like Nottz and anybody else who got the heat from around the way.
DX: It's interesting you bring up Timbaland, because you haven't done a solo record with him. Why hasn't that happened yet?
Pusha T: I record in his studio, right now to this day. It just hasn't happened, and it's a certain expectation level too. So it's not something that I want to rush, or just take a Timbo beat because it's a Timbo beat—like, it's Pusha T. and Timbaland. Like, it's a Virginia thing. I got something to kind of prove to the area. That's my underlying motivation, and it has to be that level of right. So, we haven't really… We talk about it all the time. I mean, he just played his album for me the other night, actually. Incredible. But, you know man, my Virginia connects. It's weird because it's like friendship with a lot of people. And it's not like… Half the time we don't even talk about music. You know, we be talkin' about other stuff. It'll happen when it happens, but we still all link all the time for nothin'. Thanks to thepestilence.
*hiphopdx.com