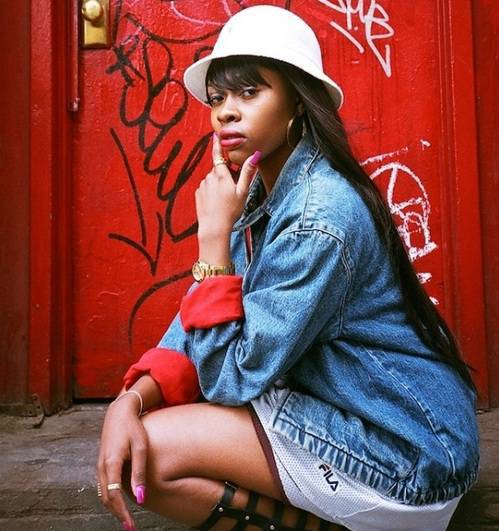 This past spring, a collaboration with
Jeremih
called "
Don't Tell Nobody
" caught the ear of
Timbaland
, who soon flew her out to
LA
to work. He has since taken her under his wing, saying, as Tink explains, that he
"sees the light in me in a similar way he saw the light in Missy [Elliott], as well as Aaliyah."
To be the artist who's inspiring
Timbaland
is a good thing.
Even better,
Tink
is in the enviable position right now of not only appealing to a wide swath of fans but of facing almost no obligations to anyone. She has yet to sign any kind of record deal, and she's in no hurry at the moment to release a new full-length project.
Noisey.Com
sat down after that shoot to talk about working with
Timbaland
, becoming a role model, and why her music is the remedy for "
Loyal
." Thanks to
Chaedley Millard
.
Noisey: What has it been like being in the studio with Timbaland? What kind of stuff have you guys been working on?
Tink: It's almost like a motivator. Being in the studio with Timbaland, it makes me just want to be better. Timbaland, he's worked with the greats. His energy—I feed off of it. Some producers, when you get in the studio you just vibe. When you're in the studio with Timbaland, you really bring your A game because he puts his all into his sound, just recreating himself. And that's why I feel like I need to go even harder. So everything that we've created so far, words can't describe. It's fresh. That's the perfect word.
Has your music evolved thematically at all since you've started working with him?
Yeah, of course. I have to send messages through my music now. I don't want to just be saying anything. I want to be able to say something that has meaning, basically. In the game, especially with female artists, we're missing music that means something, that has a deeper message than just 'turn up in the club.' When I'm in the studio with Timbaland, we're putting emotion into it.*noisey.vice.com