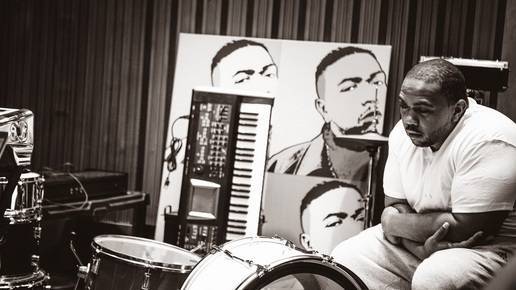 Timbaland
is one of the most celebrated and decorated production geniuses of our lifetime. He's crafted global smash hits for some of the greatest entertainers of our day — from
Jay-Z
to
Missy Elliott
to
Justin Timberlake
to
Beyoncé
– he's single handedly shaped modern music as we know it. But how does an aspiring artist hit the radar of someone as established as
Timbaland
? Seemingly impossible, right?
Well, think again because thanks to
Lenovo
and
Microsoft
the artists and fans now have the power to make the impossible possible. Enter the
Team Up With Timbaland Song Contest
– a new program set to empower the underdog, and the potential star in all of us. Kicking off on
August 18th
,
Team Up With Timbaland Song Contest
can now win a chance to have a hit hand-crafted by the living legend
Timblanad
– all courtesy of Lenovo and Microsoft.
Artists can enter to win by uploading a
YouTube
video or
Soundcloud
link of their best original track to
Lenovo.Com/Teamup
. From
August 27th
to
September 28th
, fans can share and
VOTE
for their favorite original tracks and artists. Simple as that. But
Lenovo
and
Microsoft
aren't just giving the artists a chance to win – fans also have the opportunity to take home some one-of-a-kind prizes. By voting everyday for the
Team Up With Timbaland Sweepstakes
until
October 22nd
, the fans will have a chance to win
Lenovo
products and other dope tech gear, which will be given out every other week.
Timbaland
and an esteemed panel of judges will review the tracks with the most votes and then narrow it down to their five (
5
) favorite, which will be scored on originality, creativity and star appeal. The five (
5
) finalists will be selected and announced on
October 13th
, and each contestant will have a special two week musical challenge that will be created by the evil genius Timbaland himself.
The artist who crushes the competitions and demolishes the tasks will then win the ultimate prize: a once in a lifetime day-long recording session with
Timbaland
in
Miami
. It does't get much better than that. A dream come true courtesy of
Lenovo
and
Microsoft
. Check the calendar or important dates below, and get to submitting now. What are you waiting for?
Song Contest Entries: Aug 18th - Sept 28th, 2014
Sweepstakes Prize Entries: Aug 18th - Oct 22nd, 2014
Voting Opens: Aug 27th - Sept 28th, 2014
Five (5) Finalists Announced: Oct 13th, 2014
Contest Winner Announced: Nov 6th, 2014
*teamup.lenovo.com
*fakeshoredrive.com