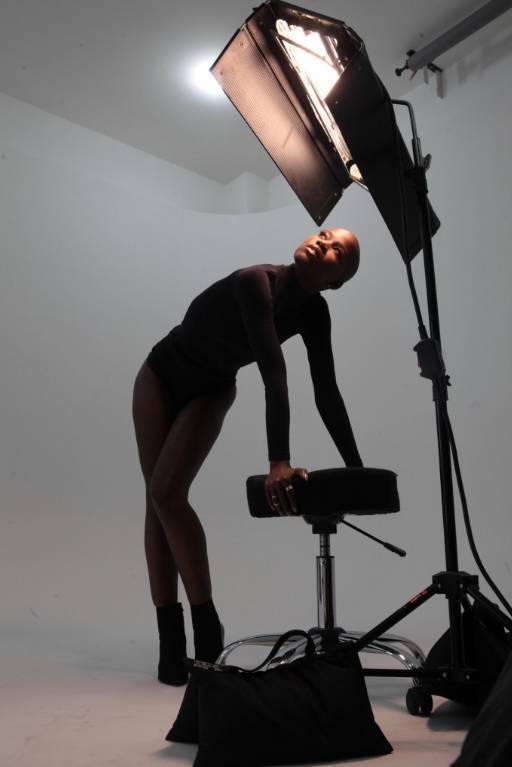 V. Bozeman
is a vocal powerhouse but you should also know her as an actress, model and worldly artist who possess a universal appeal to break down barriers. The songstress can be caught on the new hit series
Empire
as well as with two upcoming projects set to arrive this year.
"
Opera Noir
, the first single will be released
March 23rd
called "
Smile
.
" You know how "Happy" was? This is going to be a black anthem but it's going to be like huge,"
she explains.
"After that my album [Music Is My Boyfriend] will be rolling out around spring time and I'm so proud of this and happy about both projects."
Working closely with super-producer
Timbaland
,
V
is not only creating her own music but also collaborating with him on
Opera Noir
as a duet project.
"It's definitely like our music but it intertwines the old with the new and that's what I love about it and Timb really executed this idea,"
she said.
*karencivil.com
Before we get into the music, Valentine's Day is coming up are you dating?
V Bozeman: I have friends, my work load is so heavy and I'm so enthralled in my career. It's not a major priority. You know the Queens around me they always remind me like 'yo, if you're enthralled in you career so much and you don't have anyone to share it with then you can't forgive that.' I still date here and there.
So how do you plan on spending the day?
V Bozeman: I plan on working that night and singing some songs on stage to a couple lovers so I think that's a great way to share my Valentine's day through the people.
What tips would you offer couples who are spending Valentine's Day together?
V Bozeman: If you really are into a person you should learn them as far as what they like and what they love and just be thoughtful with that gift and let it come from the heart. Us women we love to eat. Take us out for a nice lil meal or cook a nice lil meal. Just engage and enjoy each other.
Switching gears, "Race Jones" takes a very poignant stance in dealing with race. Why do you feel that it was important for you to use your platform to spark change?
V Bozeman: Me and Cee-lo Green collaborated on it and I just felt like it was time to release her and I say her because I really feel like ladies don't get that she is a spirit. She's very unapologetic, she's got a few kids, she comes from pain and getting hurt but now she's liberated and I feel like we have to start walking in that. We have to be liberated of all of these negative vices that attack our culture. I think that we as artist have to use our platform and not let our platform use us.
What were your thoughts on how hip-hop reacted to these current events with Eric Garner and Mike Brown?
V Bozeman: I feel like certain artist such as J Cole or Common definitely spoke out and they were activist. Do I feel like it should have been more of a unified stance? Absolutely because we are the influence. I don't mean to point fingers but even with "Race Jones," I sat on that for over a year before I chose to release it but with everything that was happening I'm like it's time to release it and I look at it as if more artist did that it could be a real powerful movement. I think that we're so fixated on the wrong thing and we have fear of losing certain things that come with being a public figure that we don't know what sacrifice is but our people are hurting, our people are dying. I wish artist and people that had great influence would step up and use the platform more effectively.
Definitely. Talk to me about you're experience working on Empire.
V Bozeman: Everyone is so passionate about the story of Lucious and the story of Empire cause it's real and it just resonated over the whole set. I'm so blessed to be a part of it and I'm definitely going to be reoccurring this season and next season.
Did you expect the fans to grab onto it the way that they have?
V Bozeman: I don't know if I did. I know that FOX's whole marketing and promotions for this had people waiting for it and I knew it was going to be a hit, but this big a hit? I mean it's broken records it's just getting bigger and bigger but I knew it was definitely going to be a success.
What did you think of 50 Cent's response to Empire?
V Bozeman: He likes to ruffle feathers. I'm glad that the cast didn't feed into that. This is a black production. This is a major platform for black actors and singers and we need to make sure that we support each other. His show is a success as well so people aren't going to stop watching Power, people are not going to stop watching Empire so why not support each other? That's part of the problem right there. But I love 50 he's cool.
Working with Timbaland and his camp how has that influenced you artistically?
V Bozeman: It was the first time that I was able to actually live in the studio. He has such a love and affinity for me, I'm so grateful. I'm like why is this producer at this caliber spending all of his time and energy because he was with me every day. Each and every day in that studio working on two projects.
What can we expect from your duet album Opera Noir?
V Bozeman: I feel like Opera Noir is like black music at it's best. The black moment in music is definitely back as far as Timbaland bringing projects to the people. We acknowledged that old school good feeling but know how to bring in that new so the kids and the youngins can feel it too and they can understand what real good music is you know. We're both advocates for putting feeling back in music.
Can we expect any collaborations between you and Tink?
V Bozeman: Absolutely, me and Tink just did a real huge record I can't wait till you guys hear it. We did a song called "Beautiful Skin." That's going to be a part of Opera Noir I think.