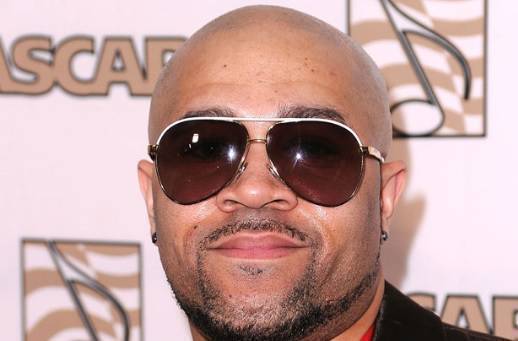 By
Alexa Tietjen
.
Empire's
music director had no idea the show's soundtrack would be such a hit, but he considers the wide reception of it all a blessing.
Jim Beanz
, who also appears as Titan on the show, has been working with
Timbaland
,
Empire's
executive music producer, for a decade, and he's the genius behind the show's hit song "
Drip Drop
."
Find out what
Beanz
had to say about working with
Timbaland
,
Jennifer Hudson
, and up-and-coming rapper
Tink
, as well as his former addiction to Love & Hip Hop Atlanta. Look forward to the rest of
Empire Season 1
with these three things you need to know about the rest of the season, and enjoy this throwback song, which
Beanz
had a hand in creating.
You've been working with Timbaland for a while. What's your relationship with him like?
Me and Timbaland have been working for about 10 years. I was usually the guy who he would pull in whenever he had any singers. I started working with him along the lines of vocal production. Over the past four or five years was when he started to see that I was a writer and a producer also.
*vh1.com
What's it like producing for artists versus producing music for TV? Does it limit your creativity in any ways?
It's a different world than just doing music for artists or singers. A lot of the songs have to carry out the story line. It's definitely been boot camp. [laughs] It's taught me how to also implement different characteristics within the songs. Each character has a different kind of song.
"Drip Drop" was number one on Billboard's Emerging Artists a couple of weeks ago.
What? Can you just say that one more time for me? No, I did not know!
Yeah, I saw it up there one afternoon. It was still charting a few days after, too.
Wow. God is good. I had no idea.
How does it feel to see your songs be so well-received outside of the show?
It's a blessing. You just now told me that news. I had no idea. I've been so in this work bubble that I've had no chance to breathe and see how the numbers are doing, but it feels great. Wow. That's a blessing. The amount of songs that had to be turned over in such a small amount of time, I didn't really even get a chance to fall in love with any one because I was always on to the next scene or the next episodes, so to hear that the songs are actually being received like that, it's amazing. It really is.