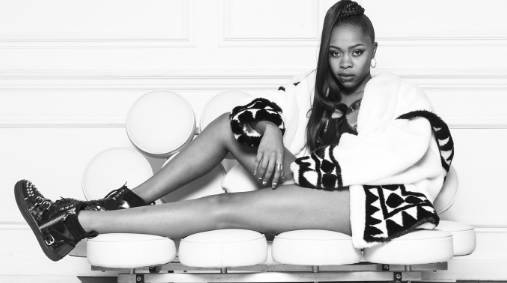 Tink
is slowly becoming one of the most talked about up-and-coming artists in the music industry.
Tink
got her first taste of stardom when her rendition of
Rick Ross
' "
Movin' Bass
" made its rounds on the Internet; thanks in part to
Timbaland
dropping it online. While the record may have gained
Tink
a lot of recognition,
Ross
wasn't too happy about the rapper recreating his song.
"I took it for what it was. The song never really got put out the proper way, but at the same time, for people to hear me next to Jay and Ross, helped me gain a lot of respect,"
Tink
told
MTV News
. The rapper added,
"If I run into Ross, and if you're listening, and you need help making another smash, I'm still here. I'm open."
Since the online premiere of "
Movin' Bass
,"
Tink
has dropped several mixtapes including
Winter's Diary and Winter's Diary 2.
Working alongside one of the best producers in the industry has helped the rapper-singer hone her skills as an artist.
"Working with Timbaland, he gives me insight, he throws me different ways to approach the beat and those extra tips go a long way,"
the rapper told
MTV News
.
*fdrmx.com
She continued,
"I know that he's worked with some of the greats, so it's just motivation. I feel inspired when we're in the booth together."
Tink
stated she was really nervous when she flew to
Los Angeles
to meet the super producer for the first time because she thought he would have an enormous ego.
"I was nervous as hell. I'm thinking about everything Timbaland has done, and who he has worked with. I thought he was gonna be Hollywood,"
Tink
revealed to
MTV
. The rapper added,
"I didn't know if he would like what I had on, if he was gonna think I was corny.

When I sat down with him and we talked the conversation was so genuine."
Timbaland
publicly stated that
Aaliyah
spoke to him in a dream and said that
Tink
is "
the one
."
"What I want people to really understand is there will never be another Aaliyah. That's not what he was trying to convey. Timbaland was saying that Aaliyah came to him in a dream and gave him confirmation and I really believe that that's what happened,"
Tink
explained.
The rapper-singer said that
Timbaland
is very passionate about the music
Tink
is creating because it feels "
classic and timeless
."
Tink's
debut studio album is expected to drop later this year, and it will feature a guest appearance from
Missy Elliott
.
Tink
stated that
Elliott
has been a great influence for her, and she encourages
Tink
to never be afraid of who she is.
"You have your own style, be unique, don't be afraid. They'll hate it at first, but then they'll love it,"
Elliott
told
Tink
(
via Sway In The Morning Radio Show
).