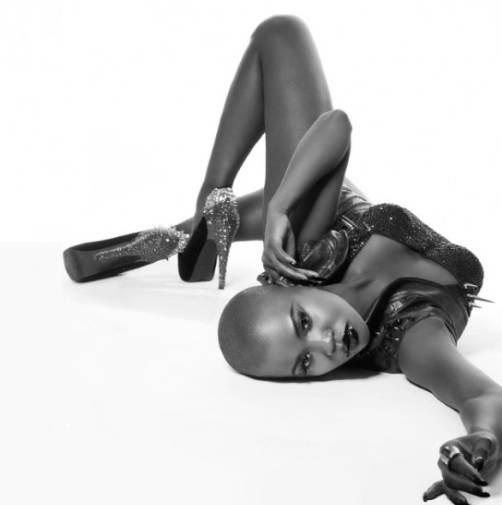 By
Davina Hamilton
. The rising US singer on being a role model for dark skinned women and becoming a universal brand. With the US drama series
Empire
enjoying phenomenal success when it debuted at the start of this year, it was inevitable that stars of the show would get their shine. But in addition to further solidifying the skills of lead actors
Taraji P. Henson
and
Terrence Howard
,
Empire
also thrust new talents into the spotlight – talents such as
V. Bozeman
.
Featuring in the show's premiere episode,
Bozeman
played a singer, newly signed to the fictional record label,
Empire Entertainment
, who delivered a powerful vocal performance for the label's
CEO
,
Lucious Lyon
(
Howard
). Her undeniable talent struck a chord with countless viewers, who wasted no time taking to social media to praise her strong, soulful voice.
*voice-online.co.uk
Suffice to say,
Bozeman
was thrust into the media spotlight. And in a case of life imitating art, she was snapped up by hip-hop heavyweight
Timbaland
, who produced their debut collaborative project
Opera Noir
. The
Give It To Me
hitmaker also undertook production duties for
Bozeman's
upcoming debut solo album.
"There will be two albums coming very soon,"
Bozeman
says of her upcoming plans.
"The first single from Timbaland and myself is called Smile and that's from our duet album Opera Noir. That'll be out this summer. And then my freshman album is due out early next year.

The 27-year-old adds: "Also I'm filming the second season of Empire now
." Considering why the
Fox
'hip-hopera' has resonated so well with audiences – getting picked up by the network for a second season, following huge ratings for season one –
Bozeman
says:
"Simply because it's raw, it's new, it's authentic and it's damn drama!"
And while she's making strides to launch herself as an artist in her own right, the California-born singer says she has no problems being continually associated with the show.
"I have no complaints with that,"
she confirms.
"Empire has brought my career to a whole 'nother level! It didn't hurt Jennifer Hudson or Fantasia [who found fame] on American Idol. So I don't think of that as a negative."
Of course, as part of her newfound fame have been the many observations about her looks. With her beautiful image being, perhaps as striking as her voice,
Bozeman
recognises that being a dark-skinned woman with a shaved head, goes against what is widely regarded as the 'conventional' ideal of beauty in the Western world.
As such, does she welcome the idea of being a role model for dark skinned women?
"I do,"
she says.
"I mirror them – we mirror each other. It's part of my destiny for me to be able to be on this platform and be somebody that they can look up to and see themselves when they see me."
Additionally, the soulful songstress says her appearance has helped her both personally and professionally.
"It's definitely been a help,"
she confirms of her image.
"It's elevated me and my career and brought a totally different vibration. When I cut my hair, I finally saw me and embraced me. That's when everybody else did too."
Having experimented with a host of hairdos throughout the years,
Bozeman
reveals that her tresses suffered along the way, so she went for a clean shave in order to
"start over."
Ironically, the singer says it wasn't until after she went for the big chop that she realised how much focus is placed on hair within the black community.
"I shaved my hair because I just wanted to start over and grow a healthy mane,"
Bozeman
explains.
"That was the only reason why I damaged my hair so much with over-processing and weaves that I just decided to cut it all off. I had no idea I was gonna keep the look.

"I think our community definitely puts way too much emphasis on hair. Our whole being and lives revolve around it – I recognised that after I cut my hair off. I realised that it was ridiculous how much time and energy I put into it."
She adds:
"Your hair doesn't make you who you are, black people. It does not validate you."
Asked to describe herself in five words,
Bozeman
replies:
"Black, unapologetic, bold, loving and passionate."
Had she been asked for a sixth adjective, "
confident
" would have been an apt choice. Delivering live shows with poise,
Bozeman
recently demonstrated her performance prowess in
Jamaica
, when she performed at this year's
Caribbean Fashion Week
.
"Jamaica was wonderful, especially the good people of Jamaica,"
Bozeman
says.
"And the food was just heavenly delicious!"
With her sights firmly set on developing her career, it's perhaps not surprising that
Bozeman
hasn't got a great deal of time for a relationship.
"At this present time I am a single woman,"
she says – thereby quashing internet rumours that she is romantically attached to
R&B
star
Tyrese
. The pair collaborated on the upcoming single
You Can't Break Me
and when they were pictured together on the red carpet at this year's
BET Awards
, the romantic rumours ensued.
"He's a special friend who supports me in all that I do,"
Bozeman
says of the Sweet Lady hitmaker. Describing their friendship as "
authentic
", she adds:
"We have a great working relationship and have our single coming out soon together. We support each other – a great friendship."
Considering where she sees herself in five years time,
Bozeman
oozes self-assurance.
"I see myself being the next universal soul singer,"
she says.
"A universal brand."