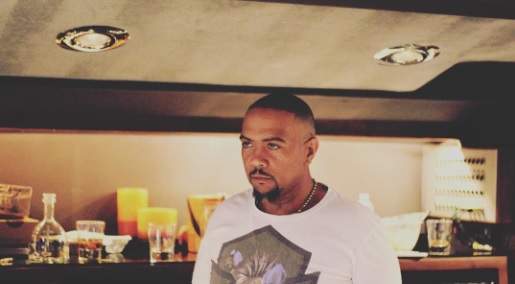 By
Chris Kudialis
. With cell phones, drinks and hands raised, a sold-out crowd of nearly
2,000
swimsuit-clad fans filled Flamingo's GO Pool Saturday for a party hosted by
Timbaland
. Wearing a black T-shirt with matching black pants and mesh shoes, the producer delighted fans with 10 of his better-known hits, including "
The Way I Are
,"
Nelly Furtado's
"
Promiscuous
" and
Justin Timberlake's
"
SexyBack
," while over a dozen concertgoers hopped onto the poolside stage to dance, twerk and sing along with him.
Timbaland's
35-minute set list continued just past 4 p.m. Saturday, and the
Norfolk
,
Va
., native managed to comment just once about temperatures that reached 103 degrees. Before the show, the
44
-year-old, recently divorced super producer sat down with the Sun to talk his latest music ventures, his new outlook on life and why he's voting for Hillary Clinton in November's presidential election.
You've been involved in some new ventures this year, most notably doing the theme song for this year's NBA playoffs. How'd that come to be?
God. You know, he's been blessing me with giving me different opportunities. Things just really came together and we made it happen.
*lasvegassun.com
Is that always something you wanted to do?
Yeah, absolutely. I'm always interested in looking at different avenues and seeing if I can do it. Everything is a different experience, everything is a different pay. And you got to just know, I'm seeing if I can handle myself as a man, doing different things. It gives you knowledge of the business of different things, like TV and other things. I like to learn.
You're a family man; you have three kids, right?
One daughter. I had two stepchildren before my divorce.
How do you balance that dynamic of family life and work?
I'll say this: I love my kids, but I'm not married anymore. So it's different, I have more time, but I still do this for them.
At this point in your career, are you looking back, looking forward, or a little bit of both?
I feel like I'm just getting started. When you go through certain things, like when you get married and you get out of marriage, you sacrifice yourself. You sacrifice your career. So now you learn about discipline. When you commit, you learn a lot of different things about yourself. So, that being said, now I'm ready to get back to it. It's the same thing as Steph Curry. The Warriors never had any adversity, when you get adversity in your life it either strengthens you or weakens you. For me, it strengthens me.
Trump, Hillary, or independent?
I'd say Hillary, but it's up in the air. I like Trump's hotel, I wouldn't discredit any of that. But the presidency is another ballgame.