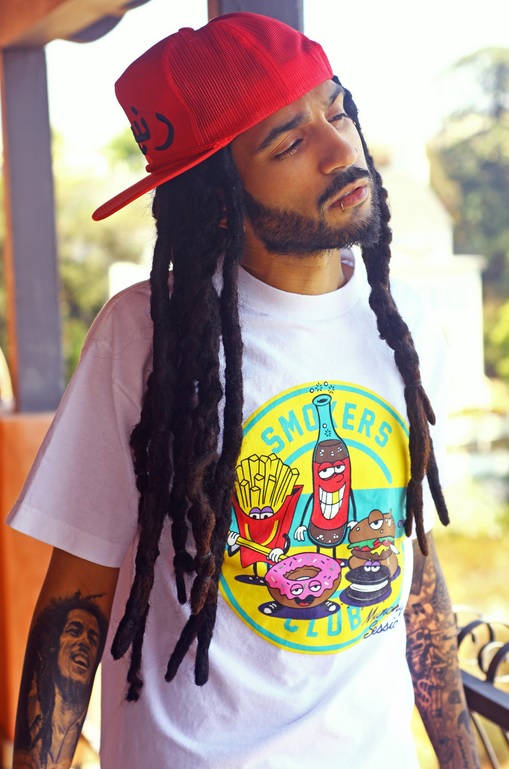 Skinny
is an interesting figure within hip-hop. With the rise of internet rappers and the rise of
Yeezy
as a fashion icon, there has become a lot of uniformity in the game. In terms of how people dress, sound, talk and even flow, it's hard to find people who particularly stick out.
Skinny
is an anomaly — at least in terms of his story and appearance. He is a rapper from
Saudi Arabia
who has enormous dreads, a
Bob Marley
tattoo on his right arm and can often be found shirtless. His persona seems larger than life. He sat down with RespectMag to talk about his new projects among other things and how he met
Timbaland
, check it out below.
RESPECT.So you've been making music since you were 14. At what point did you think, "this could become real for me. This could become my career and I actually have a shot at this?"
Um, the point when I got validation pretty much from Timbaland. It was like six years ago. I was in the studio with him and I played my first record. He made me play 14 songs and just jumped on one of my tracks. So at that point I was like, 'Hey if Timbaland's f***ing with me..' You know, it gave me the confidence really to push my s**t.
*http://respect-mag.com/2016/08/respect-interview-skinny-meeting-timbaland-new-album/
RESPECT.: That's crazy. So what was that experience like? Were you starstruck at all or were you like, 'I'm meant to be here?' What was going through your head at that point?
It was so unexpected too, because I had just met this girl in a gas station and I had played her my music and she's like, "f**k it, I'm gonna take you to Timbaland right now." And I was like, "what?" And we were randomly driving to Timbaland's studio, and you know he's really funny. It was the first time I got to meet him and he was cracking jokes. I was definitely (starstruck), especially Timbaland because he has a lot of Arabic influences in his music, so it's amazing to see how talented (he is), putting all different sounds together. So it was very, very cool. It was one of the best days of my life pretty much.
RESPECT.: Do you believe in fate? Like do you believe you were meant to be at that point, to meet that girl to get in that studio?
Oh definitely dude. It was definitely fate. And it's cool to get some validation from somebody you look up to, you know what I mean? It was like a huge thing. So… And what's crazy is that he started playing all these samples he had from all of this Arabic influential s**t and I was like, 'Is he really? Is he trying to show off right now?' * laughs * But nah it was definitely fate forsure. But I haven't heard from him since then, so you know what I mean? But yeah, it was definitely the start to something amazing.
RESPECT.: So have you reached out since then?
Nah, so we really just never really got a chance to get back in together. It was a long time ago too, so I was just kinda in my cave. I wasn't really looking for it, it kind of just came randomly. So it just came and I was like, 'Oh okay, that's cool.' Cause I heard, that even a music exec couldn't get in a room with Timbaland and play him even like 5 records. You'd have to pay him for that s**t at the time. So it was a long time ago. So I was like, 'Wow, he really f**ks with my s**t.' So I must have something special.