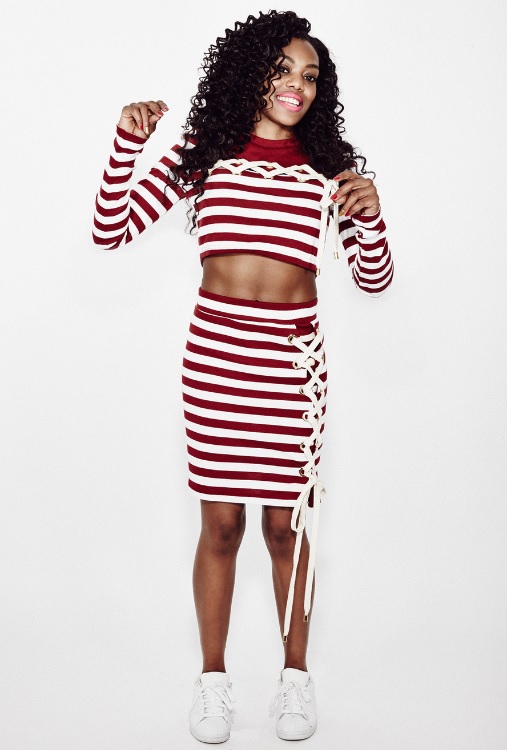 The rapper learned how to make music in a
Solihull
youth club – now, after a false start, she's working with
Timbaland
and is the toast of US hip-hop.
'Basically,'
she says,
'I'm on the up'
Lady Leshurr
has just come back from the
US
. She has been spending a lot of time there this year, she says:
"We've been to Atlanta, LA, New Orleans, Miami, New York."
She played a sold-out gig in the latter, the audience's enthusiasm apparently undimmed by the fact that she raps with a distinct Brummie twang:
"I didn't think they'd be able to understand me, didn't think my accent, of all accents, would have crossed over like that. But they were singing my lyrics back at me. It was hilarious, hearing people with American accents saying 'bredrin' and 'wasteman', all that British urban slang."
But mostly, she's been working on her debut album.
"Working with a producer called Deputy, who made Rihanna's Bitch Better Have My Money; Bangladesh, he made Lil' Wayne's A Milli, and Diva and Video Phone for Beyoncé.*theguardian.com
I've got a session with Scott Storch, he's coming back now as well. And you know Timbaland?" It's oh so cultural: the sharpest sounds of autumn 2016 Timbaland, the celebrated, groundbreaking producer of Missy Elliott, Aaliyah, Justin Timberlake and Beyoncé? The visionary auteur behind more than 100 hit singles on both sides of the Atlantic? I'm aware of his work, yes. "Well, I've been doing a few bits with Timbaland. Timbaland is amazing. He just rang me up on my mobile one day."
The girl born
Melesha O'Garro
giggles.
"I'm just working with a few legendary producers."
In person,
Lady Leshurr
is charismatic and funny and smart. You can see why her new major record label – she's signed to
Sony's RCA
imprint – might think she's a hot prospect; in the past
12
months, she has gone from a hugely productive one-woman cottage industry, of the kind that's fuelled grime's commercial resurgence in Britain, to an artist that
Timbaland
and co are queuing up to work with.
"All these major established artists reaching out,"
she frowns.
"I had people like Akon calling my phone. Busta Rhymes. I've no idea how he even got my number. Young Money Records tried to reach out to sign me."