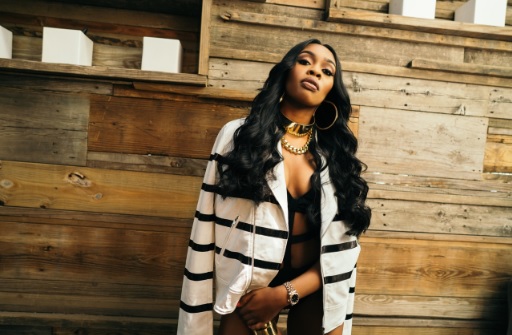 Photos by
Shaun Michael
, three years ago,
Timbaland
recounted a dream in which
Aaliyah's
ghost told him that
Tink
was
"the one."
Shortly after hearing
Tink
spit fire over
Jeremih's
soulful croon on "
Don't Tell Nobody
," the the legendary producer and tastemaker flew the young artist (née
Trinity Home
, her moniker is her childhood nickname) to
Atlanta
to get them in the studio together. "
The connection was instant
,"
Tink
tells me. The two have been collaborating since; their major project being
Tink's
forthcoming debut album.
"I'm always working on the album,"
she says.
"It's going to be very special."
Be-Street.com
speaks to
Tink
just after she drops the fourth installment of the her mixtape series on
August 25
.
Winter's Diary 4
features star-studded production by
Jahlil Beats
(of Bobby Shmurda's "Hot Nigga"), Spanish mash-up duo
Cookin Soul
,
C-Sick
(of the drill hit "Val Venis" by King L), and of course her beloved mentor
Timbaland
.
"I'm really happy with it,"
Tink
says, expanding that finalizing the mixtape was a long haul because she's a perfectionist.
"Some people make a song in four hours and say its done."
But
Tink
is the opposite. She'll go through five rough drafts until she's satisfied.
"I take my precious time until everything is right."
And her work ethic shows.
*be-street.com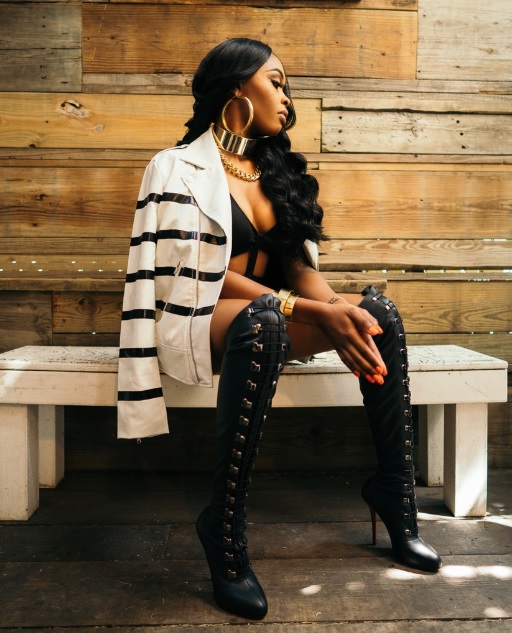 At just
20
-years-old, the
Chicago
singer and rapper has released a whopping seven mixtapes.
Tink
released her first project –
Winter's Diary
– in
2011
when she was a sophomore in high school. At just
14
-years-old, she wrote and recorded the mixtape during
Chicago's
winter months, when the world grows dark and freezes over, perhaps opening
Tink's
subconscious. The series accordingly addresses "
deep emotional topics
," the stuff most people keep to their diaries.
"People are attracted to that rawness,"
Tink
tells Be-Street.com.
"That real shit."
After the first mixtape, everything changed. Her fellow students at
Chicago's Simeon Career
Academy began looking at her differently, which was motivating.
"They started treating me like a star."
At the time, she didn't have
Timbaland's
guidance or production budget. She was "
broke
," and recorded music in her father's basement studio.
"We're creative as fuck in my family,"
Tink
tells me – her father is a musician, her mother a playwright, and her brother a graphic designer who makes all of her cover art.
Aside from writing music,
Tink
also aspires to direct her own music videos. At age 16
,
she and her brother posted a clip of her freestyling over
Clipse's "Grindin'"
to
Facebook
and received local buzz. Following her debut,
Tink
hasn't slowed down. She released two mixtapes –
Alter Ego
and
Blunts & Ballads
– in
2012
, and in
2013
she put out her fourth mixtape (
Boss Up
) and was featured on
Future Brown's
debut single "
Wanna Party
." (
Tink
speaks fondly of recording with
Future
Brown
in an "
underground studio
" in
New York
when she was "
still fresh in the game
.")
Winter's Diary 2: Forever Yours
was listed on the best
R&B
albums of
2014
by
Rolling Stone
and
Billboard
, and
Winter's Diary 3
was also met with favorable reviews. I ask
Tink
when she knew she had 'made it.'
"When I met Rihanna and sat in her house,"
she tells me without hesitation. Speechless, I nod inaudibly while
Tink
expands.
"Visiting Rihanna's Malibu home to work on an upcoming project,"
Tink
says,
"was the best experience of my life."
What's more, it confirmed that music is where she should be.
Despite all her success at such a young age, when I asked
Tink
what inspires her, she cites her setbacks.
"I've had a lot of doors shut in my face."
Before she got signed, she used to visit
New York
frequently for meetings with no success.
"When I can't get my way, it makes me want to go to the studio and write a song."
I ask whether said setbacks include being a woman in a male-dominated industry.
Tink
says she wouldn't use the word setbacks, but explains that "it's obvious" that women get treated differently – "we have to give a little bit more."
Specifically, she points to the expectation that women are visual treats in addition to creative talents.
"You have male artists who just put on a white t-shirt and jeans and that's fine,"
she explained.
"With women, you have to have a body, your 9-inch heels, the whole package."
But
Tink
doesn't let these expectations shape her behavior.
"I'll go to the club with my nice sneakers,"
she says. In this vein,
Tink
writes all her own songs. In school, her favorite subject was English, and she often free-writes prose get her creative juices flowing.
"Everyone should do that I think just to stay sharp on your vocabulary."
Whenever she's blocked, she opens a journal.
"Just let your pen glide and it starts to come."
Tink
worked with a song-writer once and she assures me it will never happen again.
"I believe in feeling your own work,"
she says. I ask
Tink
how her outlook has changed over the course of her seven mixtapes. While originally known for her aggressive rapping (hear her fierce verses on
Future Brown's
"
Wanna Party
" and "
Room 302
") associated with
Chicago
's drill music scene, "in
2016
," she tells me,
"I enjoy singing a little more."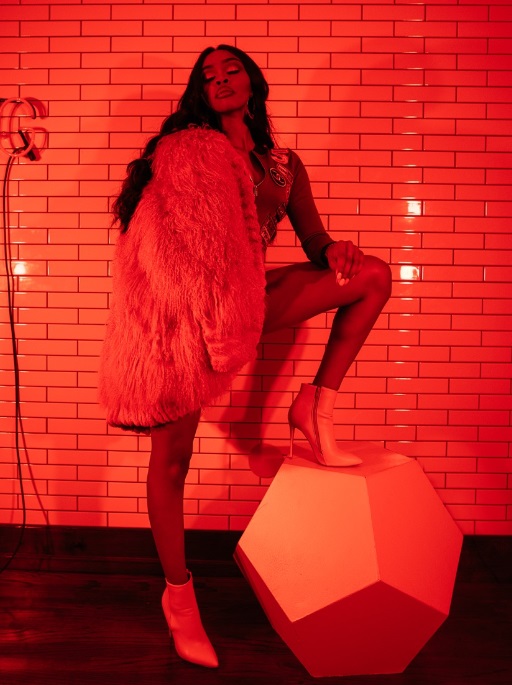 "My first love was singing,"
she tells me. The artist began singing in church when she was five and writing songs at
11
.
"I didn't start rapping until the drill movement hit Chicago,"
Tink
explains, referring to the south Chicago style of trap music embodied by rappers like
Chief Keef
and
Lil Durk
, and defined by its dark lyrics and ominous beats.
Tink
considers herself a
"singer who can rap,"
expanding that some fans prefer her more aggressive side, while others
"like my softer side."
I must admit I originally fell in the earlier camp (I will again emphasize her collaborations with
Future Brown
), but after listening to
Winter's Diary 4
, I'm sold on her softer side.
What
Pitchfork
called her
"intimate, writerly, and improbably mature R&B"
and
"lithe, iridescent voice."
Vibe
called
Winter's Diary 4
an "
emotionally charged roller-coaster
" and her "
most honest work to date
." While in the early days,
Tink's
lyrics focused on "
that drill shit, street shit
," today she tells me her overarching message is all about "
self-empowerment
." At the end of our call, she asks when the article will come out. "
The sooner the better
," she says.
"Because the tape is scorching."
Stream
Winter's Diary 4 HERE
, and watch her music video for the
Timbaland
-produced single "
Modern Wave
"
HERE
.