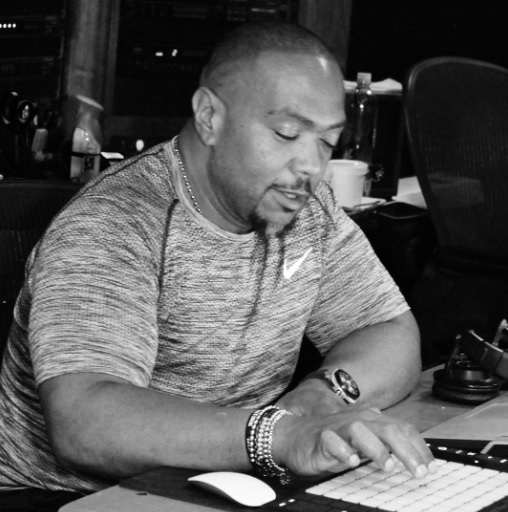 American music producer, rapper and TV personality
Timbaland
doesn't feign humility when declaring that he doesn't have challenges to overcome anymore.
"In producing, there are no challenges for me—I've been doing it for 20-something years already, it's no longer a challenge,"
Timbaland
, aka
Tim Mosely
, told the Inquirer in a phone interview.
"Right now, it's more like, I want to touch everything in music, dabble in all parts of it."
He did concede that these days, he thinks a lot about one thing:
"I try to be in every soccer or basketball game. I want my sound to be everywhere. That's the challenge, to figure out how to put my sound in everything that plays music!"
Timbaland
, whose prior collaborators include
Madonna
,
Justin Timberlake
,
Missy Elliott
,
Nelly Furtado
,
OneRepublic
,
Drake
and the late
Aaliyah
, is also taking on a different role—as a mentor to aspiring music artists in the reality tilt,
"The Pop Game"
(Lifetime, Tuesdays, 9 p.m.). The
Grammy
winner will record and produce the song of the winning aspirant.
*entertainment.inquirer.net
What makes "The Pop Game" different from other talent shows?
It has a one-on-one [mentoring style]. I am the mentor. So it's not about turning a chair; it's just about me. It's not about a kid losing; it's about developing a kid to be the best [he can be]. What's your most memorable producing experience? All of them. There's not one that stands out. Every time I get a chance to walk in and produce a voice on top of my music, it's a blessing, because it introduces another tone. I'm into tones over top of my tracks and what I produce, [so] it's an exciting moment every time. It's different from the last one, it's different from Justin (Timberlake) … everyone is different. They all bring something different to the table.
How different are these hopefuls compared to now-popular artists when they were still starting out?
They are very intelligent and always willing to learn. They're good at what they do, but they know they aren't there yet. To know that at that age is a blessing. A lot of people come into acting arrogant, thinking they know everything. Not these kids. They just want to get better.
How has the American music industry changed compared to when you started?
The only difference is the technology. You don't have to be under a label, so there aren't a lot of restrictions. If an artist is talented, technology gives them a way to be heard, [to stream] on SoundCloud. When I came in, it was very hard, we had to put [up] showcases. Now you just go on your computer and phone and find the next big thing just by searching SoundCloud. These kids get their music out there to be heard. That's something I always said when I was making music, you have to go through so many hoops and loops just to get heard. But now you can create your own page on YouTube and, before you know it, somebody's discovered you.
Would you say it's easier now to break into the industry?
It's the same, it's just easier to be heard, like the studios—you don't need all that stuff anymore. Now, you can do it in your house using your laptops and phones. You have all these devices to make stuff and be creative.
What's the greatest lesson you've learned in all the years of producing?
I learn every day. When it comes to producing, [it's] like going to school—you're always learning something new. So, I compare that to my music career. I never settle.
What do you think is the next big trend or popular music style?
I haven't put it out yet. I'm just being honest. Not being arrogant or anything, but when I do come out with something, it's music, body and soul. Everything has to connect, not just the music—the look, the appearance, how I talk. It's all going to reflect on me. When you're trying to make a statement, everything has to line up.