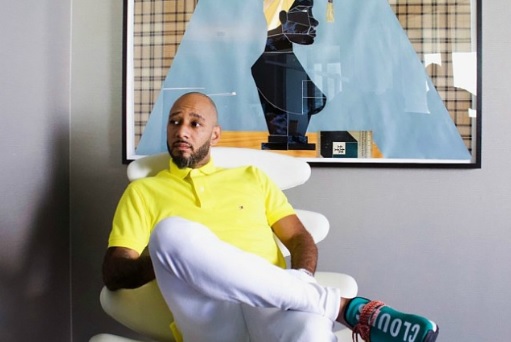 It's a bright sunny day in
Miami Beach
.
Swizz Beatz
is preparing for his "
No Commission
" art show inside his new beachfront condo, which is unlike any gallery or exhibit you'll see at
Art Basel 2017
,
Vibe
sat down with
Swizz Beats
to talk about his upcoming projects and his
Beat Battle
with
Timbaland
.
"I feel that hip-hop can use an injection, and I think they ready for it, too,"
Swizz
said about the album.
"The Fab and Jada ["Theme Music"] joint was like a test. That's just the warm-up. Even with the battle with me and Tim, we had to push that back to until the top of the year. I think we're dropping our albums on the same day, so we'll see. It's all fun, though."
The hype for the
Swizz Beatz
vs.
Timbaland
beat battle has been high since
Swizz
called him out at the
Mayweather VS. McGregor World Tour
last summer. Over the last few months,
Timbaland
has also been busy working on a few collaborations of his own and hasn't been pushing for a date as of late. However,
Swizz
is ready whenever he is.
"It'll be more celebration than a battle,"
Swizz
sincerely points out.
"I just want to change that word around a little bit. So battle is like 'kill each other,' right? You know, but we're really celebrating each other by even having the respect to do that. We're going to treat it like a sport. Come in with your game face, I'll come with my game face and [we'll] do what we need to do. Tim is not an easy guy; he ain't no pushover. I'm not an easy guy either so this is a good one. It's for the culture anyway. At the end of the day, nobody loses because the culture wins."
*vibe.com