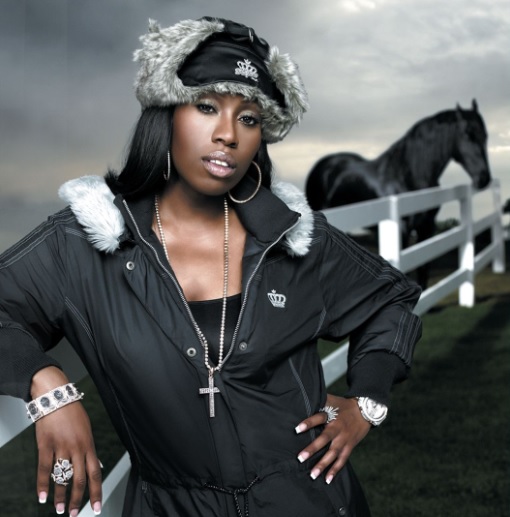 Missy Elliott
sat down recently with
Billboard
to discuss some of her greatest hits and the experience she had writing for big names in the business, including
Aaliyah's One in a Million
, "
Hot Boyz
," one of
Elliott's
hits featuring
Nas
,
Eve
and
Q-Tip
and more.
Aaliyah - One In A Million (1996)
After Aaliyah's hit 1994 debut album, Age Ain't Nothing But a Number, Missy and Timbaland were chosen to work on one song with the R&B songstress. Instead, they ended up working on eight and One In A Million — the song and the album — were created.
"I was scared. I don't know if Tim was scared when we first played it because it was a different sound. It was a different way to attack records because people were really singing then; that world of rap-singing didn't really exist," Elliott explained to Billboard.

"Because I wasn't really a singer like that, that's why I wrote like that, because I was a rapper, but I didn't know how to do a bunch of runs, so every record that I would attack, I would attack it like I'm rap-singing it." ″(Radio) said they couldn't blend it in, they couldn't mix it in with records before it or after it because the cadence hadn't been done before," Elliott said. "And so somehow, I think her uncle spoke to some people and they end up playing it. I know (Funkmaster) Flex was one of the first people to break that record in New York. …It was a headache at first."

Missy Elliott - The Rain (Supa Dupa Fly) feat. Timbaland (1997)
"I can't stand the rain … in my window,"
Elliott sings in her debut single,
"The Rain (Supa Dupa Fly),"
which continues to hold a spot as one of the most unique and creative songs of all-time. Elliott said she only wrote and performed the song, along with her first album, as an agreement to get her own label so she could sign and produce artists of her choosing.
"Of course, those were my smoke days, you can tell by the first line. I just went in and I just said whatever I felt," Elliott told Billboard. "Back then, there was no expectation, so it wasn't like I had to really think and say, 'OK, I have to make something better than what I did the last time. This was my first time going in, so it was like, whatever the music made me feel, I said it,"
she said. Elliott and Timbaland wrapped up 1997's platinum-selling album in two weeks.


Missy Elliott - Hot Boyz feat. Nas, Lil' Mo, Eve & Q-Tip (Remix) (1999)
Although the song set a record after spending 18 weeks at No. 1 on Billboard's rap songs chart, Elliott said she remembers "one of the stations in L.A. was the first to pull it," she said.
"And something happened, I can't tell you what happened, but whatever happened, it ended up back at the stations … and it ended up in the Guinness Book of World Records." "I want guys to feel like they could ride around and listen to this because the beat was so hard. This beat feel like all the male rappers would want to get on this joint right here,"
she said.
Missy Elliott - Get Ur Freak On (2001)
And who could ever forget Elliott's hit "Get Ur Freak On," on her third album, "Miss E… So Addictive," an album in which Elliott created most of the music. Still, before creating the memorable tune, Elliott felt like something was missing something. Timbaland thought the album was complete and was getting frustrated.
"By this time, he's annoyed," Elliott told Billboard. "He just happened to be in front of the keyboard and he starts just pressing the buttons on the keyboard but he when was doing it, he was mad. He begins to create around this sound." That high energy vibe would later become "Get Ur Freak On," the album's first single and an incredible hit for Elliott. It even won the best rap solo performance Grammy, beating out Jay-Z, DMX and Nelly. "I'm always a headache to Timbaland. He has to take vacations after we're done with my album because I stress him out,"
Elliott told the magazine.
*https://thegrio.com/2018/12/02/missy-elliott-opens-up-about-writing-for-aaliyah-and-beyonce/