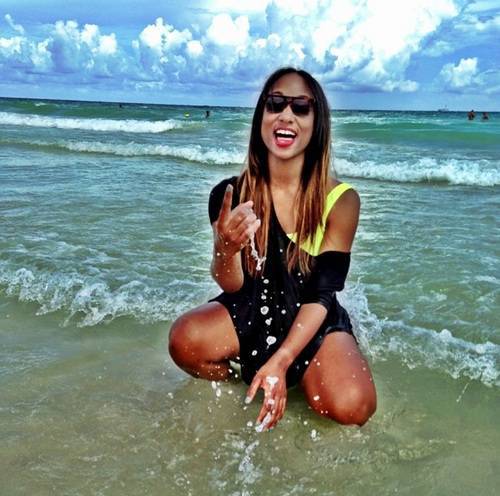 Already bolstering a credible resume for her production,
Shakari "Trakgirl" Boles
knows that her time is now and is looking toward capitalizing. You don't have to mention to this
DMV
resident the importance of her position, representing for women and building her own brand, she's well aware. In today's hip-hop where many elements of production are copies of someone who is hot at the time,
TrakGirl
chooses to go a different route.
With production credits attributed to the likes of
Omarion
and
Luke James
,
TrakGirl
places the vibe of the moment into her songs showing that she is a lover while placing the mood anywhere from where she states are "
sappy and lovey dovey
" to "
dark and open
." "
I don't do cliche things, I don't do trendy music
,"
TrakGirl
explains. "
I'm not into what's hot now
."
While working on developing her own sound
TrakGirl
is working with
Timbaland
on his current album, who will openly boast about her talents as he did a few days ago on
Instagram
quoting:
"Follow my female Producer @trakgirl ! She a beast. I'm building an Empire! #timbalandproductions."
Karen Civil
caught up with
TrakGirl
to chat about how she got her start, her personality, the impact of females in the game and straying away from being a cliche producer.
What made you start producing?
TrakGirl: I really started getting into production when I was like 15. I always wondered how music was created that would be on the radio. So I did my own research and bought my first beat machine (an Akai MPD 16 with a small gateway computer) and everything and just started practicing on my craft.
When you were in school did people go "Oh, you made that?"
TrakGirl: Well, I wasn't like a party, go-outer girl. I always stayed in my dorm room or tried to get into the studio. I use to book a room at Thomas Crowne Sudios in Virginia Beach, which was Timbaland's studio, and I guess like that's when my name kinda spread cause I was in there like a little studio rat.
*karencivil.com
*instagram.com/trakgirl
*twitter.com/trakgirl
I have to ask you to finish the list. You started with Timbaland, if you had to finish your Mt. Rushmore of producers, who you got?
TrakGirl: No, this is a hard question [laughs]. Can I give you five? Kanye West. No I.D. Um, this is hard. And of course Missy Elliot. She's just that girl. We need more Missy's.
What are you aiming for when you're producing to distinguish your sound?
TrakGirl: I can tell you what I don't do. I hate the radio. I try not to listen to the radio. Some of the stuff that's on the radio is trash to me right now. I never try to mimic anyone's sound. I listen to a lot of different genres. I'm very eclectic with music. Whatever vibe I'm feeling, is probably what I'll go for.
You say the radio sucks right now, so if you were to hit play on your iTunes what's going to play?
TrakGirl: [Laughs] Um, something you never heard before. I'm trying to build this sound. I can't even describe it. It's unique.
So when people are following a dream or doing what they really love they have this "it" moment. What is that moment for you?
TrakGirl: I haven't even hit my "it" moment honestly. An it moment is like when I have trillions of Grammy's, on a yacht one day, making beats, looking at the ocean. But I think my transition moment was probably this upcoming Timbaland album. Being involved with his project and the Luke James stuff and really getting my name out there. I'm just very blessed and thankful for the opportunities. God is good!
What can you tell us about that Timbaland's project?
TrakGirl: It's definitely something special. It's beautiful, that's all I can say. Again, I'm thankful to be able to create with such an inspiration like Timbaland. Don't be trying to get the inside scoop !
When creating what do you need with you?
TrakGirl: I have to have studio snacks with me, sour patch kids. I pray before every track I create, I just pray. Cause there is power in prayer. Studio snacks and prayer basically and an open mind, a clear mind, a good vibe. That's all.
What do you want your personality to show to your growing Instagram and Twitter followers?
TrakGirl: I'm just a cool girl. That nice, down to earth, cool girl, who makes beautiful music. Who just wants to touch people in life. This is just such a male dominated industry. I just wanna break that void, it needs to be more Missy Elliots in the world. Just more female producers period. We just need to run shit and I feeel like it's coming soon.
You say we need more Missy's, more women to offset that male dominance. What parts do you directly play in that from your standpoint now and going forth?
TrakGirl: I feel like this whole grind that I'm doing now, like once things start picking up and once people start hearing my music and all of this success. I feel like I can open doors for other women to come in and start playing with these boys out here. I'm not really too big on competition or anything but I feel like we can really kill it. I just want my story and my journey to open up doors for other women. My whole brand is about empowerment and unity, so I just feel like if women come together we can just kill it.